Rubber Tracks & Pads
Southern Earthmoving Attachments stocks the full range of DEKK Rubber Tracks & Pads.
DEKK are Australia's most trusted tracks for earth moving and construction equipment. In addition they include an industry first 24 month Full Replacement Warranty on all Excavator tracks.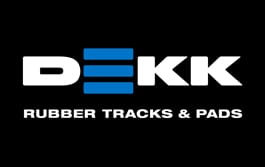 DEKK Rubber Tracks are a powerhouse combination of tear-resistant rubber, tough continuously wound steel cables and perfectly aligned core bars. All of their Rubber Tracks are manufactured to tight tolerances and with the correct pin fitments. Guaranteed to get the job done in all conditions.
DEKK Rubber Tracks are ideal for use on Excavators, Skid Steers, Crawler Carriers, Loaders, Dumpers, Ride On Skid Steers, Mini Excavators, Horizontal Platforms and Drilling equipment of all makes and models.
Their Rubber Tracks are guaranteed to fit and designed to suit leading OEM brands including Kubota, Takeuchi, ASV, CAT, Terex, Bobcat, Komatsu, Case, Morooka, Yanmar, Deere, New Holland, Kobelco, JCB, Hyundai, Hitachi and more.
DEKK Rubber Pads have been designed to easily fit onto existing steel tracks on excavators, profilers and drills to prevent expensive surface damage that occurs with steel tracked machinery.
DEKK Rubber Tracks are ideal for use on DEKK pads can also help to prevent sliding while digging, reducing vibration for operators and improving the operators
machine handling experience.
DEKK Rubber Pads are not only simple and easy to install, but come in three main styles to suit any machine. They are supplied in pairs, packed securely in boxes with nuts and bolts included for easy transport and storage.