Geith Tilting Quick Hitch
Southern Earthmoving Attachments stocks Geith Tilting Quick Hitches. With over 60 years of engineering expertise in the development of excavator attachments, Geith is a company that is well-known and appreciated for its wide and safe range of quick hitches.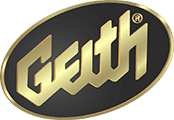 Dramatically increase your productivity using the best of both world technologies: the powertilt from Helac and the Geith Quick Coupler.
Tilt your excavator bucket or any excavator attachment up to 180° with peace of mind.
Features
• Tilt any bucket or attachment up to 180°
• Available for 6-26 ton excavators
• Operated entirely from the cab
• Geith proven front and rear safety lock
• Safe release curl to open
• Variable pin centre design
• Proven technology exceeds current safety standards
PowerTilt© Head Unit
• Integral Rotary Union for Coupler
• Reduced Weight
• Integrated cross port-relief valve